All Kaina Grindz on Maui

Call Us: (808) 250-7286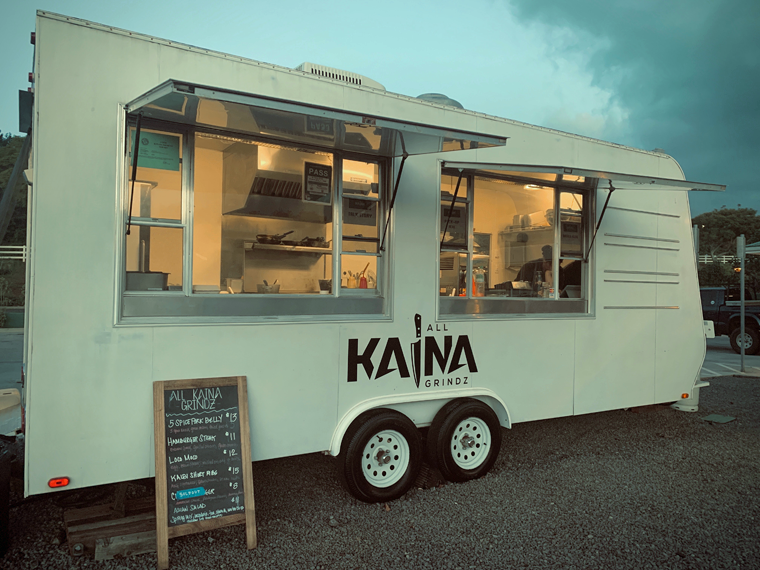 All Kaina Grindz serves a variety of ono-licious, freshly prepared food with many local Hawaiian ingredients and flavors. Order from our food truck or call for delivery to Upcountry Maui locations in Kulamalu, Pukalani, and Makawao. We also take phone orders for pickup in Kulamalu Town Center and will walk your food to your vehicle.
Call Us: (808) 250-7286

Open Every Day (Mon-Sun) ♥ 11 a.m. to 8:00 p.m. (or til we run out)
Three generation 'ohana serving our community. We work hard, we love, we cook, we feed - until hearts are content and we ain't done yet! Stop by, talk story, and grind 'em!

Our All Kaina Grindz ever-changing fresh food menu features Kim Chee Fried Rice, Loco Moco, AKG Cheeseburger, Hamburger Steak, Kalbi Short Ribs, Kalbi & Shrimp Plate, AKG 5 Spice Pork Belly, Pork Belly Congee, Tuna Patty Over Rice, Smoke Meat with Pickled Veggies & Mac Salad, Lau Lau Plate, Pastele Stew Plate, Venison Curry, Tamale Plate, Pork Chop & Mushroom Gravy w/Rice, Poke Bento, Seared Ahi Plate, Corn Beef & Cabbage, Asian Chicken Salad, Healthy Choice Salad, Pan Fried Salmon, Beef Stew, AKG Bento (Char Siu Chicken, Teri Beef, Spam, Furikake, Corn, Rice), Garlic Shrimp Chow Mein, a Cookie Carton, and more. Ask about our Daily Specials!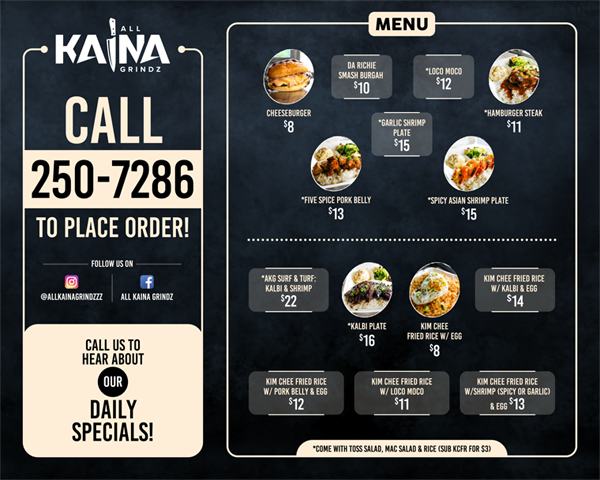 Bring your hungries for da kine broke da mouth ono-licious Maui-stylin' grinds!